Double & Triple Glazed Options - Asgard Windows Dublin
---
Glazing abbreviations followed by charts explaining your glazing options
Contact Asgard Windows Our Service Areas Video Gallery
Double Glazed, Triple Glazed Options
Glazing abbreviations followed by charts explaining your glazing options
Firstly your ordinary Single Glazing has a U-Value of 5.8 (U-Value is the measure of rate of heat loss)
The first generation of Double Glazing 20 mm Thick had a U-Value of 2.8, which was a saving of 3.0. This is the biggest saving of heat from Single Glazing to Double Glazing.
Then in the 90's Pilkington Glass introduced to the Irish Market K Glass with a coating on the outer side of the inner pane. The unit was increased in size to 28mm Air Filled so it went from Double Glazed at 2.8 to K Glass 28 mm at 1.8.
Now in the last few years the coating on the glass has been further improved and is called Low Emissivity Glass. The unit is now filled with Argon Gas(a gas that is used in your ordinary domestic florescent light bulbs) The U-Value has now gone to 1.2
The next stage that has been developed is Triple Glazing, The Savings on heat here are not as significant as you would expect, for instance if you Triple Glazed a 28 mm Unit the U-Value goes to 1 a saving of 0.2. The reason being that with a Double Glazed 28 mm unit you have two 4 mm panes and a 20 mm gap to fill with Argon Gas,With Triple glazed you have three 4 mm panes and two 8 mm air gaps to fill so the gap area is smaller for the Argon Gas, you would have expected a bigger reduction in the U-Value with Triple Glazing. However if you increase the size of your Triple Glazing to 36 mm, three 4 mm panes and two 12 mm gaps the U-Value goes to 0.7.
The next questions you might ask is why not increase the unit size and get a bigger U-Value reduction. This is not the case. Larger Units in some cases can actually put the U-Value up instead of reducing it. We can do further calculations and explain them if you want to contact us.
O.C. = Optifloat Clear
L.E. = Low Emissivity (A coating applied to the glass that reflects heat back into the room)
A.F. = Air Filled
A.G.F. = Argon Gas Filled
U Value = Measure of the rate of heat loss through a material
Single Glazed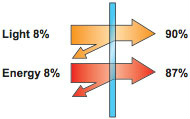 4mm C.L. Single Glazed
U-Value 5.8

Double Glazed 20mm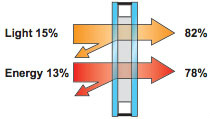 4mm O.C. - 12 mm Cavity A.F. - 4 mm 0.C.
Overall Size 20 mm
U-Value 2.8
K Glass Air Filled 28mm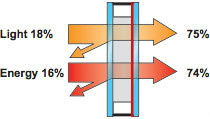 4mm O.C. - 20 mm Cavity A.F. - 4 mm P.K.
Overall Size 28 mm
U-Value 1.8
---
Double Glazed Argon Gas Filled 28mm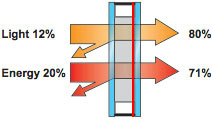 4mm 0.C. - 20 mm Cavity A.G.F. - 4 mm L.E.
Overall Size 28 mm

U-Value 1.2
Triple Glazed Argon Gas Filled 28mm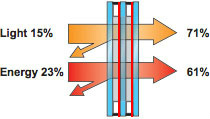 4mm C.L. - 8 mm Cavity A.G.F. - 4 mm L.E. - 8 mm Cavity
A.G.F. - 4 mm L.E.
Overall Size 28 mm
U-Value 1.0

Triple Glazed Argon Gas Filled 36mm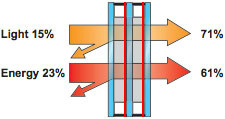 4mm C.L. - 12 mm Cavity A.G.F. - 4 mm L.E. - 12 mm Cavity A.G.F. - 4 mm L.E.
Overall Size 36 mm
U-Value 0.7

WEIGHT 4 mm - 10KG Per Square Metre


Information courtesy of Pilkington Glass